Green Tea
Matcha "Suiryu"
Matcha "Suiryu"
Tencha steamed and dried in tencha-ro (a special furnace for tencha)
Tea leaves
Like gyokuro (refined green tea), tencha is made from tea leaves grown shielded from the sunlight before being harvested, which are then steamed and dried in tencha-ro (a special furnace for tencha). Differently form Sencha, there is no rubbing process, resulting aromatic flavors. Also, the highly contained Theanine provides relaxation that helps heightening concentration.
This product only uses high quality Tencha leaves.
For better taste, the mill-stone rotation speed is let to low, producing fine Matcha powder; giving rich flavor and pleasant aftertaste.
Matcha "Suiryu"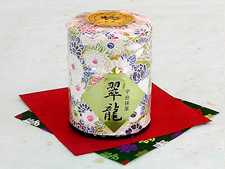 | | |
| --- | --- |
| Product Type | Matcha |
| Production Area | Uji, Kyoto |
| Weight | 30g |
| Expiration | 4 Months |
| Unit price | $62 |
Green tea for preparing thick Matcha, but can also be enjoyed as thin Matcha as well.
Buy this product
Shipping Notes:
1) Shipping fee is $20 worldwide regardless of weight or quantity
2) Customs duty and other taxes may be charged when the shipment reaches your country.
3) Shipping method used is EMS shipping.
4) Payment method used is PayPal.